Learn english with an app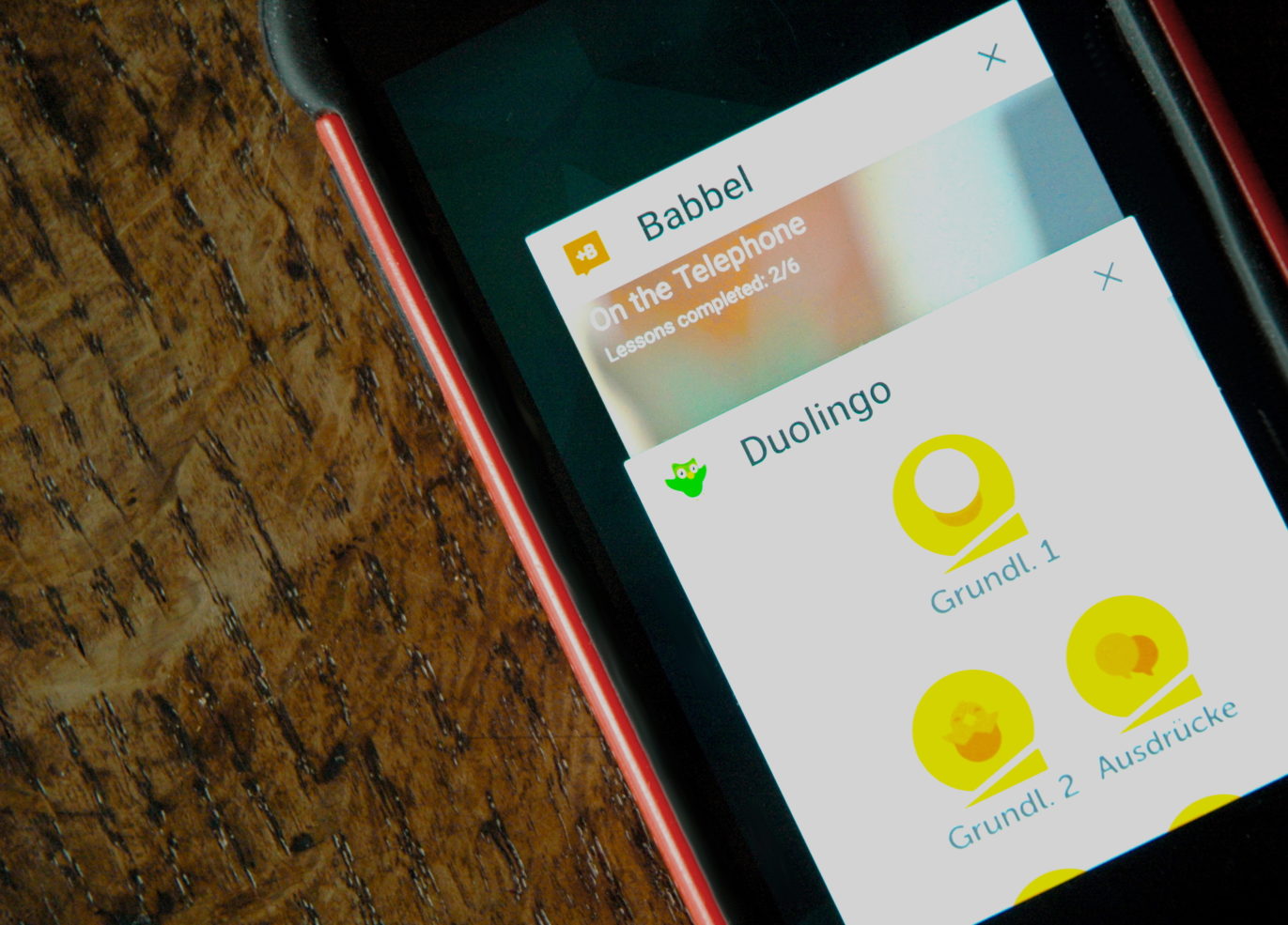 If you learn english, but live in a non-english speaking country (for instance Germany), there is a particular learning issue.
Practise.
How can you put into practise what you learn? It is easy to forget what you have learnt, if you do not hear it or use it outside the classroom. Which is why I think it is a great idea to revise and practise english with a language app.
I tested Babbel and Duolingo , two of the many english learning apps available online. In the coming weeks, I will be testing more.
What I like about Babbel and Duolingo is that they are designed to keep the user interested. Users receive emails and notifications to remind them to practise. The lessons are short, between five and 20 minutes to complete, so it is easy to find time to practise and hard to find an excuse not to. Both apps offer a mix of speaking, listening, reading and writing exercises. There are always clues and tips to help you to find the correct answer without much effort.
| | | |
| --- | --- | --- |
| | Babbel | Duolingo |
| Learning method | Guided with explanations of grammar rules | Translation from mother tongue |
| Cost | Monthly fee | Free |
| Adverts | No | Yes |
| Can you customise the course? | No, but you can choose a variety of different courses. For instance telephone conversations, small talk, business english | No. You cannot alter the course content. But you choose the module to study. |
| English practise available in | 8 languages | 22 languages |
Babbel is the app that is the most similar to having an actual teacher. There are explanations of grammar rules relevant to each lesson. The lessons are grouped into situations or grammar themes, so the vocabulary is related to a specific topic. New vocabulary or grammar rules are introduced slowly, starting with a single word at first, and by the end of the exercise can write a short phrase which includes the new word.  Like many language learning apps, Babbel saves your progress and mistakes, giving you a chance to revisit them.
There is a monthly subscription fee to access the lessons and users who want to study two languages at once need two subscriptions. Babbel offers the english course in one of six (mostly western european) languages. Luckily German is one of them.
On the other hand, Duolingo offers it's english course in 22 different languages, some courses have been developed by Duolingo's own developers and some by volunteers. The app is free to download and use, but there are adverts that you have to click through when you finish each section.
The app is like a translation game. The user receives words and phrases in their mother tongue and has to translate these into english or vice versa. There are little icons to show you which modules to revisit and revise again, before your brain forget the words.
Unlike Babbel, there are no explanations of specific grammar or language rules. The biggest drawback for me is that relying on direct translations without explanations ignores how the language actually used. On the version of the app that I tested, the perfect tense in german was translated as the english present perfect. The german Präteritum was translated as the simple past. These verb tenses are used in different ways in the two languages.
For instance a german speaker would say "Ich habe die App ausprobiert" using the perfect tense. Whereas english speakers would use the simple past for the same situation, "I tested the app". Find out more about the present perfect and why it is different from the simple past here.
Learning a language is not just about a word's meaning or spelling. It is about the correct use of words and phrases in different situations to communicate effectively. Enrolling in a course to learn english is a great way to do this. Of course I would say that, I am biased after all 🙂 But using a language app can help you get into the habit of practising regularly.  
Find the english course that suits your needs best at english to go.