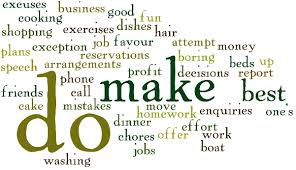 The verbs do and make can be confusing in English, especially for German learners as both verbs usually translate as machen. English uses both make and do for machen, so as a German speaker you'll have to choose!
For example, you can say:
do an exercise.
But you can't say:
do a cake*.
The phrase do an exercise is called a collocation. Collocations are words that usually go together, let's say ''fixed'' combinations of words (often verbs and nouns).
So how do you know when to use make or do? Unfortunately, most of the time you'll have to memorize the collocation. However, one rule of thumb is that we normally use do for an activity or task and make for creating something.
For example:
I always do my homework in the evenings.
My mother always makes a cake for my birthday.
Here are some more examples:
DO
…the dishes
… an exercise
…research
… the laundry
… the ironing
… the shopping
… your work
… homework
… housework
… your job
… business
… your hair
… your nails
MAKE
… a complaint
… a decision
… a difference
… an effort
… an exception
… friends
… a journey
… a mistake
… money
… an offer
… a phone call
… a plan
… a point
… a profit
… a promise
… a speech
… a suggestion
The main point to remember is that machen is not always make in English, but can also be do!
Tip: write down some make/do collocations that you use often in your job/daily life and keep a little cheat sheet on your desk! 😊